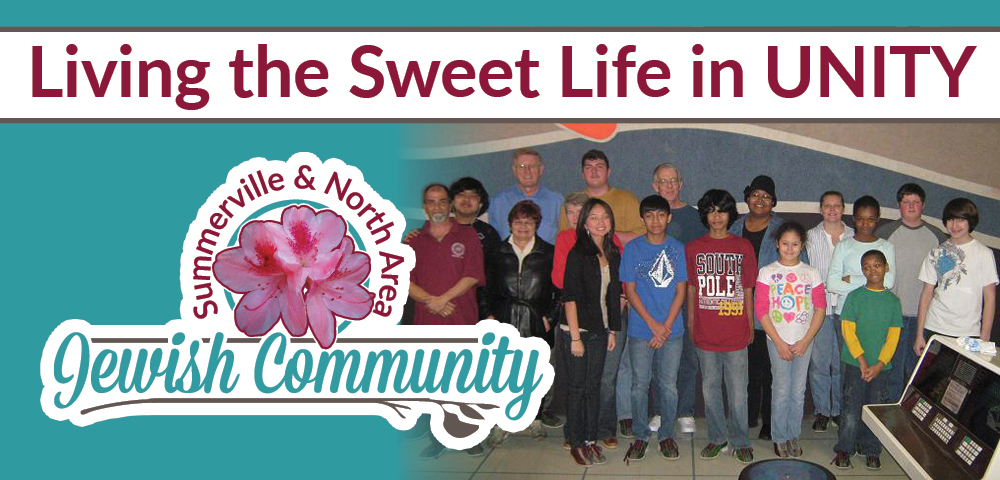 Mission Statement
To create, promote and maintain a vibrant Jewish Community in Summerville and the North Area.
---
Upcoming Events
Oct
29
Sun
Conversations with Cancer @ Saul Alexander Masonic Hall
Oct 29 @ 4:00 pm – 6:00 pm
The Summerville CommUNITY Artists Heritage Series presents: Conversations With Cancer 
Sunday, October 29th, 2017
4 pm to 6 p
Saul Alexander Masonic Hall 
111 North Main Street, Summerville, SC
Cancer touches the lives of everyone in the world. The Summerville/North Area Jewish Community and The Community Resource Center bring together all who have been touched by this disease for an afternoon of togetherness. Samantha Brock Perlmutter will sing songs of inspiration from her new CD "Be A Song".
The Carolina Seniors Line Dancers will dance for cancer, and others from our community will sing songs, show visual art and tell stories about their fights, triumphs and losses in an afternoon meant to unite and educate our community.
The event is free to attend, light refreshments will be served. Donations can be made at the event to ACS's Charleston Hope Lodge (cancer family housing) and Hope's House (Summerville Women's Shelter).
In collaboration with the Community Resource Center of Summerville. 
For more information, please contact us at snajewishcommunity@gmail.comor (843) 571-6565 
Make sure to RSVP to let us know you're coming on Facebook!
---
Summerville & North Area Jewish Community Board
Founder: Patrick C. Labbe
Community Leaders: Robyn Wittenberg Dudley & Amy Tabak
Community Ritual Coodinators: Tim Carle & Patrick C. Labbe
Mitzvah Maven/Community Outreach: Cyn Ava
---
Archive of Recent Events
Families turned out for the Summerville CommUNITY Back to School Bash on Sunday August 20, 2017 for food, haircuts, school supplies, sports demonstrations, jump castles and more. The bash was sponsored by Build-A-Brother, the Distinguished Gentlemen's Club, We-R1, Community Resource Center,  the Summerville North Area Jewish Community, and the Charleston Jewish Community Center Without Walls.
0 comments
Mi Shebeirach
(Prayers for Healing)
Irene Carr of Summerville
Marlene Willamon of Charleston
Linda Rouvet of North Charleston
Patrick Labbe of Summerville
Christopher Labbe of Florence
Janet Sussman of Summerville
Barry Elfman of Moncks Corner
---
---
Archive of all past events
2017
2016
2015
2012
2011
2010
2009