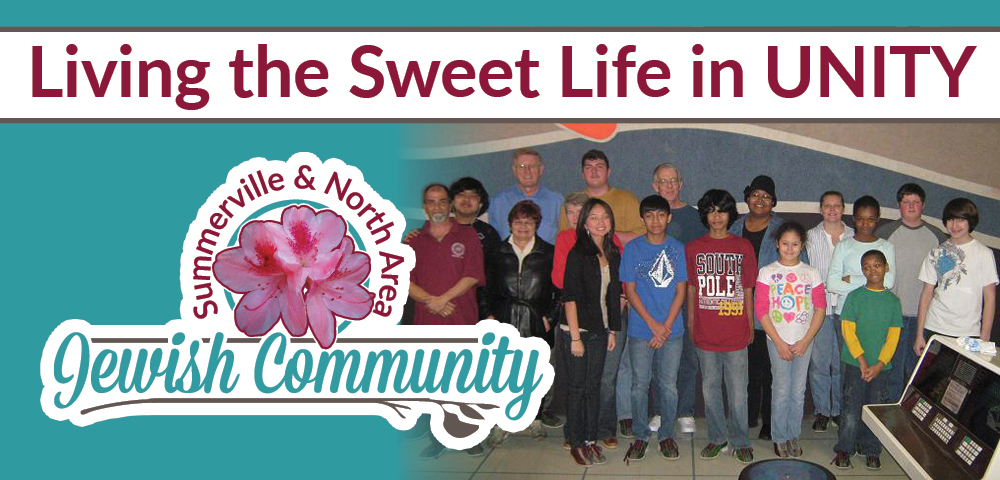 Mission Statement
To create, promote and maintain a vibrant Jewish Community in Summerville and the North Area.
---
Upcoming Events
Aug
20
Sun
Summerville CommUNITY Back-To-School Extravaganza @ Doty Park
Aug 20 @ 2:00 pm – 5:00 pm
Join us on Sunday, August 20th, 2017 from 2 to 5 pm at Doty Park in downtown Summerville for our Back-to-School Extravaganza. Local artists, music, food trucks, education companies & more!
Free parking available at Dorchester Senior Center parking lot.
---
Summerville & North Area Jewish Community Board
Founder: Patrick C. Labbe
Community Leaders: Robyn Wittenberg Dudley & Amy Tabak
Community Ritual Coodinators: Tim Carle & Patrick C. Labbe
---
Archive of Recent Events
"Can Forgive, But Cannot Forget" As local guitarist, Ulyana Machneva, played, the diverse and inclusive group introduced themselves and asked Diny Adkins questions. Diny K. Adkins will be 80 years old next year and is memorable. After being presented a plaque entitled "Jewish Hero Award" for recognition of service for Holocaust awareness, the Holocaust survivor and educator
0 comments
Mi Shebeirach
(Prayers for Healing)
Linda Rouvet of North Charleston
Patrick Labbe of Summerville
Christopher Labbe of Florence
Janet Sussman of Summerville
Barry Elfman of Monks Corner
---
---
Archive of all past events
2017
2016
2015
2012
2011
2010
2009