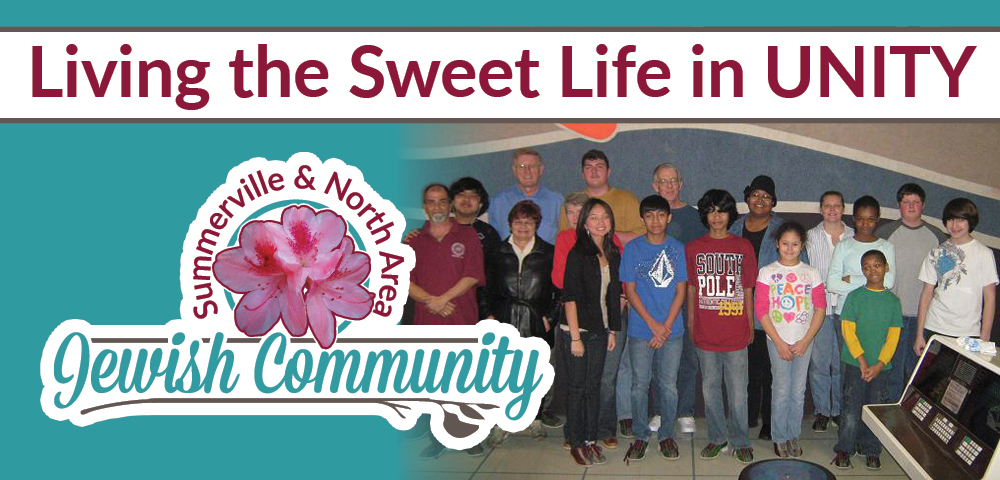 Mission Statement
To create, promote and maintain a vibrant Jewish Community in Summerville and the North Area.
---
Upcoming Events
Dec
3
Sun
Summerville CommUNITY Diversity Lightfest @ Azalea Park/Cuthbert Center
Dec 3 @ 3:00 pm – 6:00 pm
Come join the commUNITY for fun and fellowship at the first annual Summerville CommUNITY Diversity Lightfest where we will have a lighting ceremony celebrating the holidays of Hanukkah, Christmas and Kwanzaa.
There will be Music and Dance, Artists Display, Holiday Crafts/Gifts for purchase, Fantasy Walk with Youth Activities, Non Profit Tables, and Food Trucks culminating with the Lighting celebration at Dusk. Furbabies on a leash are welcome. Hosted by the Summerville North Area Jewish Community, Community Resource Center, Local Churches and Charleston JCC Without Walls.
Where: Azalea Park/Cuthbert Center, 105 W 5th S Street, Summerville, SC 29483
No street parking – Free parking at Bethel or Wesley Churches or in Town Parking Deck
When: Sunday, December 3rd, 2017 – 3:00 PM to 6:00 PM
Join us for this free event!
For more information, email snajewishcommunity@gmail.com or call 843.571.6565
---
Summerville & North Area Jewish Community Board
Founder: Patrick C. Labbe
Community Leaders: Robyn Wittenberg Dudley
Community Ritual Coodinators: Tim Carle & Patrick C. Labbe
Mitzvah Maven/Community Outreach: Cyn Ava
---
Archive of Recent Events
Families turned out for the Summerville CommUNITY Back to School Bash on Sunday August 20, 2017 for food, haircuts, school supplies, sports demonstrations, jump castles and more. The bash was sponsored by Build-A-Brother, the Distinguished Gentlemen's Club, We-R1, Community Resource Center,  the Summerville North Area Jewish Community, and the Charleston Jewish Community Center Without Walls.
0 comments
Mi Shebeirach
(Prayers for Healing)
Marlene Willamon of Charleston
Linda Rouvet of North Charleston
Patrick Labbe of Summerville
Christopher Labbe of Florence
Barry Elfman of Moncks Corner
---
---
Archive of all past events
2017
2016
2015
2012
2011
2010
2009